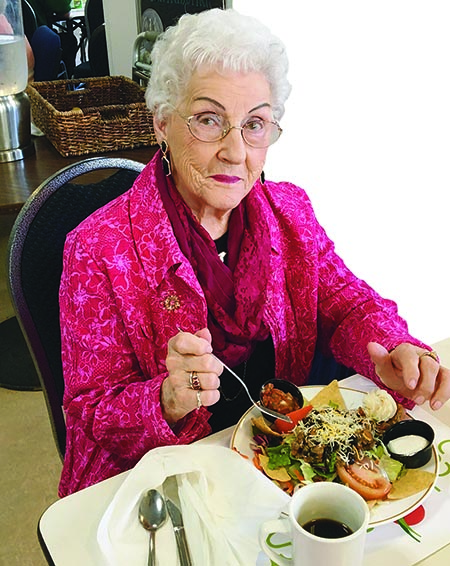 After retirement, Arlene Roberg and her husband Ole moved to Eureka from central California.  Arlene volunteered at the Senior Dining Center for 13 years before aches and pains slowed her down. She remained a regular diner, though. "I've met some of my best friends there," she said.
Now nearly 98 years old, Arlene still lives in her own home. Her knees are bad, but she gets around with a walker and a wheelchair. "By the time I cook a meal," she said, "I'm too tired to eat it."  So she appreciates her daily Home Delivered Meals from Humboldt Senior Resource Center. "These meals are a godsend for people who can't get out," she said.
Arlene is one of the 150 fortunate recipients of Home Delivered Meals. But there are 75 more people on the waiting list. "That's 75 people too many," said HSRC Director of Nutrition & Activities Barbara Walser.
One woman, dis­mayed by the possible 6-month wait to be served by the program, said, "I'll be dead by then."  "It just breaks your heart," Walser said.
Jason Ghera, the gen­eral manager of McCrea Subaru in Eureka, is a big booster. He recent­ly rode along with a driver, delivering meals. "You don't need the address," he said. "You can look down the street and see the senior sit­ting on the porch wait­ing for lunch, waiting to exchange greetings with the driver. It may be the only human contact they have all day."
The challenge of expanding the recipient list is not just funds, but stable, continuing funding, Walser explains. "When we offer meals to a local senior, it's not just for today," she said. "It's a promise that they can depend on us to keep providing meals for as long as they need them. Right now, we just can't make that promise."
To become part of a long-term solution, join HSRC's Circle of Friends, donors whose monthly con­tributions help provide the continuity that Home Delivered Meals recipients depend on.
Donate Now